Thanks for all of the comments and discussion on my last post. There were many good points and ideas brought up, and these will be very useful as we consider additional policy changes at NIGMS and NIH. I hope these conversations will continue outside of NIH as well.
Several people asked about the current distribution of funding among NIGMS principal investigators (PIs). Here are a few relevant statistics:
In terms of the NIH research funding of NIGMS grantees, in Fiscal Year 2013, 5 percent of the PIs had 25 percent of this group's total NIH direct costs and 20 percent of the PIs had half of it. A similar pattern was recapitulated NIH-wide.
NIGMS PIs who had over $500,000 in total NIH direct costs held approximately $400 million in NIGMS funding.
The figure below shows the distribution of total NIH direct costs for NIGMS-supported investigators as well as the average number of NIH research grants held by PIs in each range.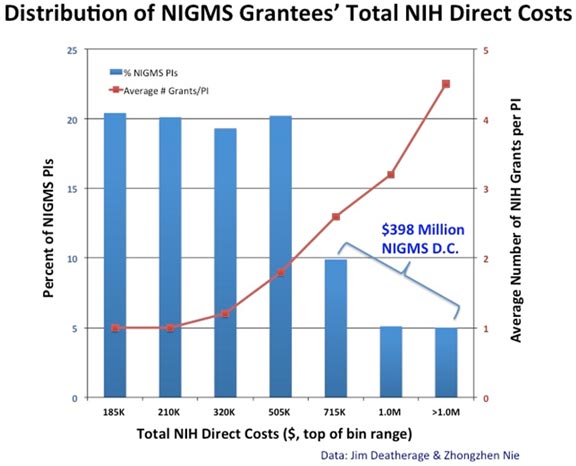 Figure 1. The distribution of NIGMS investigators' total NIH direct costs for research in Fiscal Year 2013 (blue bars, left axis). The number below each bar represents the top of the direct cost range for that bin. The average number of NIH research grants held by PIs in each group is also shown (red line with squares, right axis). The direct costs bin ranges were chosen so that the first four bins each included 20 percent of NIGMS investigators.
With regard to changes NIH might make to help re-optimize the biomedical research ecosystem, NIH Director Francis Collins recently formed two NIH-wide working groups to develop possible new policies and programs related to some of the issues that I highlighted in my blog post and that were discussed in the subsequent comments. The first group, chaired by NIH Deputy Director for Extramural Research Sally Rockey, will explore ways to decrease the age at which investigators reach independence in research. The second, chaired by me, will look at developing more efficient and sustainable funding policies. Once these committees have made their recommendations, Sally plans to set up a group to consider the question of NIH support for faculty salaries.
As I mentioned in my post, we at NIGMS have been working for some time on these issues. We'll be discussing additional changes and ideas with the community in the coming weeks and months on this blog and in other forums, including our upcoming Advisory Council meeting.
Share...