UPDATE: The new predoctoral T32 funding opportunity announcement specifically tailored for predoctoral graduate programs in the basic biomedical sciences is now available.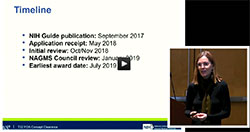 At the recent NIGMS Advisory Council meeting, the Division of Training, Workforce Development, and Diversity requested, and received, approval to write a new predoctoral T32 funding opportunity announcement (FOA), specifically tailored for predoctoral graduate programs in the basic sciences and designed to help catalyze the modernization of biomedical graduate education. The goal is to enable the community to develop and implement innovative approaches to education and mentoring that will more effectively and efficiently train future generations of outstanding biomedical researchers, and will allow graduate education to keep pace with the rapid evolution of the biomedical research enterprise. Taking into account the feedback we have received from various stakeholders over the past year, the new FOA will:
Emphasize the development of a diverse pool of exceptionally well-trained scientists;
Focus on skills development, rigor and reproducibility, inclusive and supportive training environments, and responsible conduct;
Address conflicts in the incentive structure of the research enterprise that adversely impact biomedical graduate education;
Encourage the use and dissemination of evidence-based, innovative educational and mentoring practices;
Emphasize improvements in career preparation (broadly defined), and dissemination of career outcomes on publicly available sites.
The intention is not to layer additional activities onto existing structures. Instead, this funding announcement is designed to allow for a creative reinvention of biomedical graduate education that preserves the best elements, while enhancing the focus on the development of research and professional skills by trainees.
We expect to issue the new T32 FOA this fall and to receive the first applications in May 2018. The new FOA will apply to all NIGMS predoctoral T32 training grants, except for the Medical Scientist Training Program (MSTP), which will remain on the parent T32 announcement for now. We plan in the future to develop a parallel FOA that is specific for the goals of the MSTP.
We encourage the community to watch the presentation at our Council meeting and view the slide deck. As always, we welcome your input and feedback on these plans. You can post your comments below.
Share...