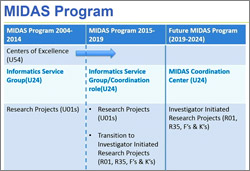 At its September 2017 meeting, our Advisory Council endorsed the concept of a MIDAS Coordination Center.
MIDAS, or the Models of Infectious Disease Agent Study program, is a collaborative network of research groups that focus on developing bioinformatics tools and computational models to understand the interactions between infectious agents and their hosts, disease spread, prediction systems, and response strategies.
Initially the MIDAS network consisted of research centers (U54s), research projects (U01s), and an information service group (U24). These activities will expire in 2019, and NIGMS is shifting the focus of this program to an investigator-initiated research portfolio consisting of R01s, R35 MIRA grants, and fellowships and mentored career development awards (Fs, Ks).
However, modeling of infectious disease agents continues to be an active area where a coordinated effort is needed. NIGMS Council members supported the concept of a MIDAS Coordination Center. We envision the MIDAS Coordination Center to serve as a focal point for collaboration and training as well as testing and dissemination of MIDAS research products. The center will also act as the point of contact between the MIDAS network and public health organizations.
We expect to issue a funding opportunity announcement in early 2018, and we encourage the community to watch the presentation at our Council meeting to learn more about this program. We welcome your input and feedback on these plans. You can email your comments to me or post them here.
Share...