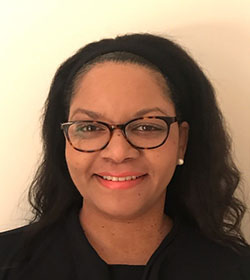 I'm pleased to announce the selection of Shawn Drew Gaillard, Ph.D., as the new director of our Division of Genetics and Molecular, Cellular, and Developmental Biology (GMCDB). Shawn has been the acting director of the Division since February 2022. She will begin in this new role on January 15.
Shawn joined GMCDB as chief of the Developmental and Cellular Processes Branch in 2019, overseeing grants focused on organismal response to environmental stressors. Prior to this role, she was the research training officer at the National Institute of Allergy and Infectious Diseases, and before that, she was a program director in our Division of Training, Workforce Development, and Diversity and former Division of Genetics and Developmental Biology. Her experience also includes serving as a science education fellow at the Howard Hughes Medical Institute and directing what is now the NIH Academy on Health Disparities.
Shawn's extensive scientific background and expertise in managing a wide range of research and training programs make her an ideal choice for this position. You can read more about her in our news announcement.
Please join me in congratulating Shawn on her new position on our senior leadership team.


Share...