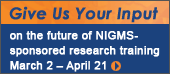 I'm proud of NIGMS' long and strong commitment to research training and biomedical workforce development. As biomedical research and its workforce needs evolve, we want to be sure that our training and career development activities most effectively meet current demands, anticipate emerging opportunities and help build a highly capable, diverse biomedical research workforce.
To this end, we are beginning to develop a strategic plan focused on research training and career development, and we want your input.
Between March 2 and April 21, you can anonymously submit comments at https://publications.nigms.nih.gov/trainingstrategicplan/.
You can also give us input at one of the regional stakeholder meetings we're holding in Atlanta, Chicago, Philadelphia and San Francisco between April and June 2010. If you're a pre- or postdoc, you can participate in a special webinar designed just for you on June 11, 2010.
You don't need to be an NIGMS grantee to share your thoughts on this important topic. We want to hear from individuals with many different perspectives, so in addition to responding yourself, I encourage you to let others know of these opportunities to offer comments.
As the planning process unfolds, look for updates on the Feedback Loop.