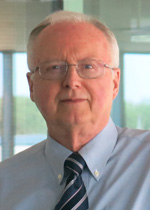 Mike Rogers, who has directed the NIGMS Division of Pharmacology, Physiology, and Biological Chemistry for the past 22 years, retired today. Throughout his NIH career, Mike has been a champion for chemistry and its important role in biomedical research.
Before joining NIGMS 26 years ago, Mike worked for more than a decade in what is now the Center for Scientific Review, where he oversaw the Bioorganic and Natural Products study section.
Between these two positions, Mike completed a detail assignment on Capitol Hill working for Senator Ted Kennedy's Health, Education, Labor and Pensions Committee, an experience that he says allowed him to see NIH from a different perspective.
Throughout his time at NIGMS, Mike has sought to build scientific bridges. He created the chemistry-biology interface predoctoral training program, which aims to cross-train students in both disciplines. He was instrumental in developing the large-scale collaborative project awards program that "glued" together scientists with diverse expertise to tackle big, unanswered questions in biology. More recently, he forged a link between two fields to help form the new field of quantitative and systems pharmacology. Along the way, he mentored and encouraged others to develop major NIGMS and trans-NIH initiatives, such as those in glycoscience, pharmacogenomics and synthetic organic chemistry.