Fiscal Year 2010 ended on September 30, 2010. We have now analyzed the overall results for R01 grants, shown in Figures 1-3.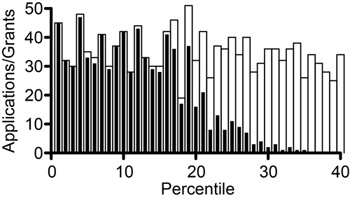 Figure 1. Competing R01 applications reviewed (open rectangles) and funded (solid bars) in Fiscal Year 2010.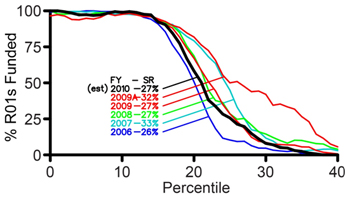 Figure 2. NIGMS competing R01 funding curves for Fiscal Years 2006-2010. The thicker curve (black) corresponds to grants made in Fiscal Year 2010. The success rate for R01 applications was 27%, and the midpoint of the funding curve was at approximately the 21st percentile. These parameters are comparable to those for Fiscal Year 2009, excluding awards made with funds from the American Recovery and Reinvestment Act.
The total NIGMS expenditures (including both direct and indirect costs) for R01 grants are shown in Figure 3 for Fiscal Year 1996 through Fiscal Year 2010.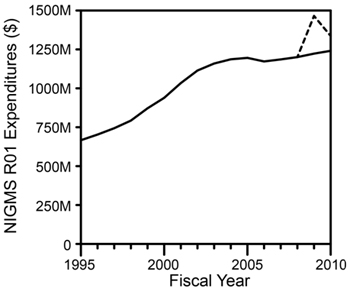 Figure 3. Overall NIGMS expenditures on R01 grants (competing and noncompeting, including supplements) in Fiscal Years 1995-2010. The dotted line shows the impact of awards (including supplements) made with Recovery Act funds. Results are in actual dollars with no correction for inflation.
What do we anticipate for the current fiscal year (Fiscal Year 2011)? At this point, no appropriation bill has passed and we are operating under a continuing resolution through March 4, 2011, that funds NIH at Fiscal Year 2010 levels. Because we do not know the final appropriation level, we are not able at this time to estimate reliably the number of competing grants that we will be able to support. We can, however, estimate the number of research project grant applications in the success rate base (correcting for applications that are reviewed twice in the same fiscal year). We predict that this number will be approximately 3,875, an increase of 17% over Fiscal Year 2010.
UPDATE: The original post accidentally included a histogram from a previous year. The post now includes the correct Fiscal Year 2010 figure.
Share...