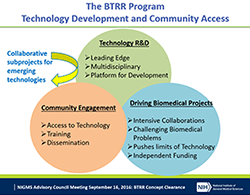 At its September 2016 meeting, our Advisory Council endorsed a concept for funding the Biomedical Technology Research Resources (BTRR) program. The concept includes a number of changes that reflect feedback from an expert panel of scientists convened by NIGMS to evaluate the program. In its report, the panel made important recommendations to:
Increase the flexibility and nimbleness of the program.
Incorporate a broader range of technologies into the program.
Increase new research directions and program turnover and implement a comparative review process.
Enable better integration of the program with the overall technology development plans at NIGMS.
The revised BTRR program will provide greater flexibility for the investigators to support a wider range of approaches for technology innovation and dissemination. The program will include collaborative subprojects to integrate emerging technologies in fast moving fields and to provide access and dissemination of these technologies. In addition, research resources funded through this program will have greater flexibility to tailor approaches for providing access, training users and disseminating the specific technologies to the communities being served.
These changes will better support the dual mission of the BTRR program: to develop high-impact technologies that enable biomedical research, and to move those technologies into wide use in the community.
We expect a funding opportunity announcement to be published in the NIH Guide later this year. In order to improve consistency in the review of competing applications, the NIH Center for Scientific Review will convene a special study section. We anticipate that most BTRR centers will not be renewed beyond three cycles (15 years) and we will require investigators involved with this program to formulate a sustainability plan for their research resources.
We welcome your input and feedback. You can email your comments to me or post them here.
Share...