I recently sat down with NIGMS-funded early career scientist Namandjé Bumpus to talk about her research and career path. Questions came from undergraduates across the country, including Thorne Varier in the Building Infrastructure Leading to Diversity program at the University of Alaska, Fairbanks. I invite you to watch the archived videocast and share it with students and postdocs in your labs and departments.
The Q&A was part of the Second Annual Early Investigator Lecture for Undergraduate Students. We launched the lecture series last year to highlight the achievements of our early career grantees and encourage students to pursue biomedical research careers.
Namandjé, an associate professor in the department of medicine, division of clinical pharmacology at Johns Hopkins University School of Medicine, started with a scientific presentation that walked us through her research investigating the mechanisms involved in HIV drug activation and metabolism. She also described an exciting new project that involves genotyping people to identify genetic variations that may also influence these processes. Then, during our conversation, she talked about when she knew she wanted to be a scientist (a professional society played a major role), how mentors have supported her along the way, what she would have done differently and why basic research is so important for medical advances. Some other highlights from the lecture are on Twitter (#ecilecture).
Much of what Namandjé shared relates to scientists at any career stage. I hope you and your trainees find the lecture as inspiring as I did.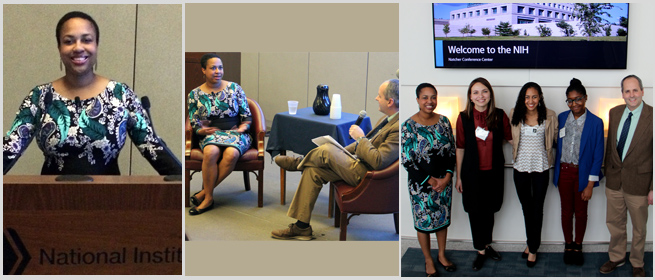 During the 2017 NIGMS Director's Early Career Investigator Lecture, Namandjé Bumpus discussed her research on drug metabolism (left), answered questions about her career path (middle) and met with undergraduate students (right).
Credit: Christa Reynolds and Emily Carlson, NIGMS.
Share...