Now that we have completed the review process for Maximizing Investigators' Research Award (MIRA) applications from the first eligible cohort of established investigators, I would like to update you on the program's status and plans for its future. I shared this information with our Advisory Council at its recent meeting in January.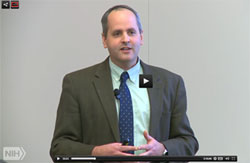 The first funding opportunity announcement (FOA) we issued (RFA-GM-16-002) was for established investigators who had either two NIGMS R01s or one NIGMS R01 for more than $400,000 in direct costs. In either case, one grant had to be expiring in 2016 or 2017. Out of the 710 investigators who could have met these criteria, 179 submitted applications, corresponding to 25% of the eligible pool.
Among the eligible investigators, 80% were male and 20% were female. This ratio was unchanged among those who applied, as were the percentages across racial and ethnic groups (Figure 1). Thus, although the demographics of the group of investigators that was eligible for this first FOA were skewed in several ways, the skewing was not exacerbated in those who chose to apply.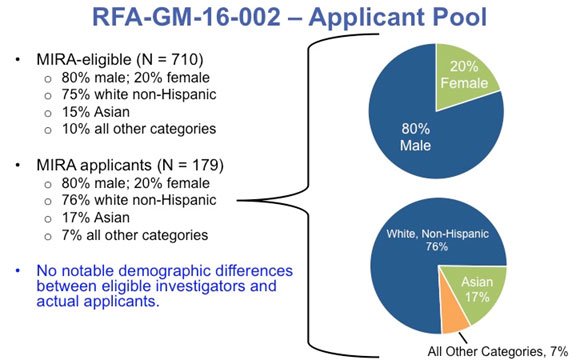 Figure 1. Demographics of the pool of potentially eligible investigators and actual applicants for the first established investigator MIRA FOA (RFA GM-16-002). Racial/ethnic groups besides white and Asian are displayed as a single category because of small numbers.
As one might have expected of well-funded, established investigators, the age distribution of the applicants was shifted toward older PIs relative to all researchers who have NIH R01 funding (Figure 2). The age distribution was essentially the same for the eligible and applicant pools (not shown).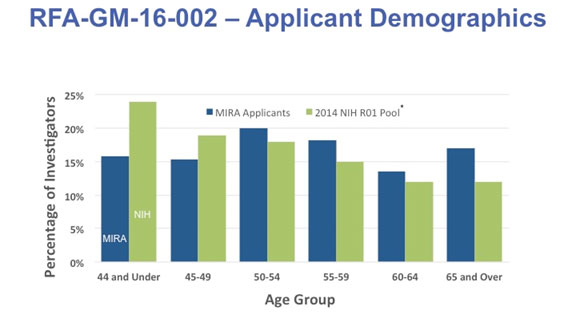 The applications were distributed among four review panels managed by the NIGMS Office of Scientific Review. These panels were organized around broad scientific areas and included reviewers with expertise in a range of fields. Prior to the panel meetings, the reviewers participated in extensive orientation webinars designed to familiarize them with the goals of the program, discuss how MIRA grants and review processes differ from those for R01s, and answer any questions or concerns that might have arisen as the panelists began reading applications. We also introduced the panelists to recent data regarding implicit bias and its implications for peer review.
Since MIRA applications did not require specific aims, applicants were instructed to outline a broad vision for the direction their work would take over the next 5 years, with the understanding that they could change directions as new ideas, observations and opportunities arose. As described in the FOA and answers to frequently asked questions, we asked reviewers to focus on the applicant's scientific track record, the importance of the research questions being addressed and the overall strategy proposed to answer them, while at the same time deemphasizing the details of approach and methodology. Reviewers also considered applicants' record of service to the research community and contributions to developing the biomedical research workforce.
The results of this first round of review are encouraging. Staff members who observed the meetings reported that the reviewers understood the goals of the program and review process. There were no significant differences in mean priority score as a function of applicants' age, gender, race or ethnicity. We will continue to monitor the process closely for any evidence of biases as the program expands. We are also exploring ways to measure differences in emphasis in written critiques between MIRA and standard R01 reviews to test our impression that the reviews were substantially more "big picture" than is typically the case in traditional study sections.
Using the information from the study sections and input from our Advisory Council, we are in the process of making funding decisions for this first group of applications.
The second part of this phase of the MIRA pilot was an FOA (RFA-GM-16-003) for early stage investigators (ESIs) and new investigators (NIs) at the assistant professor or equivalent level. We received 326 applications from eligible investigators for this FOA. Between 2010 and 2015, the Institute received 800-1000 applications per year from new and early stage investigators (Figure 3). Only a fraction of NIs are eligible to apply for the MIRA FOA, and thus we estimate that 30-50% of the possible pool applied for an NI/ESI MIRA. These applications will be reviewed by the NIH Center for Scientific Review in March.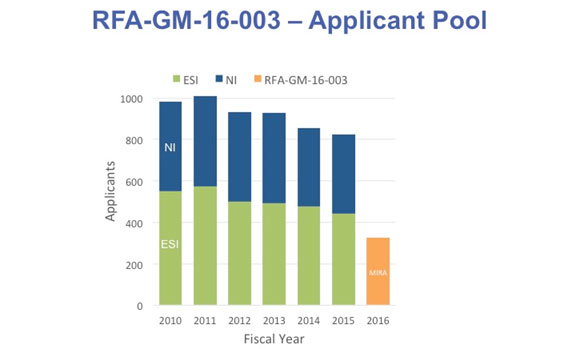 Figure 3. Numbers of applications from new investigators (NI; dark blue bars, top) and early stage investigators (ESI; light green bars, bottom) received by NIGMS in each fiscal year from 2010-2015, and the number of applications received for the first NI/ESI MIRA FOA (RFA-GM-16-003) in 2016 (orange bar at far right).
We plan to modify and reissue the established investigator MIRA FOA so that another set of PIs can apply. We intend to use the same criteria for funded NIGMS grants as in the first FOA, with a shift in the eligibility window to allow applicants who did not have a grant expiring in Fiscal Year 2016 or 2017 to apply this round. In addition, we will modify the FOA language slightly based on what we learned from the first cycle of review.
We will also analyze the results from the ESI/NI MIRA pilot and determine whether to reissue a modified version of this FOA as well.
Finally, we are starting to work on plans to expand the program to allow more NIGMS investigators to apply for MIRA grants. Our goal is to issue an FOA that would let anyone with an NIGMS R01 apply for a MIRA in the review cycle in which he or she would normally have submitted an R01 renewal application. This strategy will allow PIs who are currently supported by NIGMS to decide whether they want to try to keep their R01 or convert it to a MIRA, and it will enable us to manage the number of MIRA applications per review cycle in a rational way. We hope to launch this phase of the program within the next year. Stay tuned!
Share...